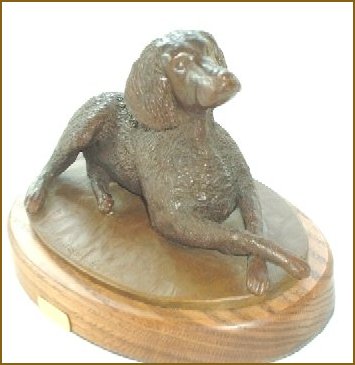 "Tip - A Great Boykin"
Limited Edition Bronze
by Thomas Denniston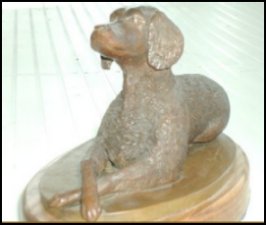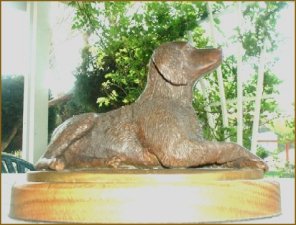 "About Tip" (registered name was Totally Intelligent Pooch):
Tip was our daughter's Boykin, the only pup kept from the single litter our Sammi had. He and Sammi were a great hunting pair - he was a real brush beater, but she would knock him right out of her way on the way to a retrieve.

Tip spent most of his time being our daughter's 4H dog, though. Together, they won many obedience and showmanship trophies at state fairs in Wyoming and Colorado. In the end, Tip had taught her about devotion, patience, love, adversity, and sadly even death. He died at eight of a nasty brain disease. This bronze is a tribute to him and their special relationship.
---
Only 50 of these 'Lost-wax' bronzes will EVER be made!

What is a 'Lost Wax' bronze?
The difference between Lost-wax bronze and Cold-cast bronze is like the difference between an original oil painting or a print - nothing wrong when you look at it from a distance. The 'lost wax' process has been used for centuries and is how most bronze sculpture is created. An original is made in wax, a material that looks sort of like coral is coated onto the wax to make a mold or form: then the wax is burned and melted out of the form, and molten bronze poured in. The form is broken away, bronze assembled and touched up, then a 'patina' is applied for the desired coloration.
Cold-cast is like fancy plaster of paris colored like bronze, poured into a rubber mold. Not much to it!

If there is a multiple edition, a sort of rubber mold is made of the original wax, then a duplicate wax is made from that mold. The duplicate is hollow, sort of like a chocolate Easter rabbit. That wax is then touched up, and used for the lost wax process.

For more information on bronzes, here is an article explaining the true bronze casting process


---
This bronze sculpture of "Tip" is the first in what we hope will be a long line of Boykin bronzes. The special introductory offer of $450.00 (plus shipping and handling) is an exceptional value.
The size of this bronze is 9 inches long X 6.5 in. wide
Order yours today from the artist:

Tom Denniston
4710 E. Fremont Avenue
Centennial CO 80122
Phone (303) 741 6918
denfam4@att.net
---
Pam's Boykin Home Page
History of the Boykin Spaniel
Boykin Spaniel Standard
---
copyright 2003
Last Updated: 5/3/03