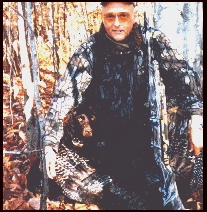 Scott Sampson with Cutter and bird



Turkey Hunting with Boykin Spaniels
"Southern-style twist appeals to fall turkey hunters"
By Dave Henderson , Endicott, New York
November 1, 1995


The excited high pitched bark of the feisty dark chocolate dog filled the wood lot and was immediately followed by the sound of heavy wingbeats as a flock of turkeys scattered in all directions.

"Here Kee Kee, Come here girl; good work," guide Joe Sears called to his dog.

"Good dog, good dog," he told the 10 month old Boykin Spaniel as she climbed into the camouflage cloth bag at her master's feet.

"We'll settle things down a little and start calling," Sears explained, pulling on a camouflage headnet. "That was a flock of adult gobblers and they might not get back together for a day or two but we'll try. If it had been a hen flock they'd be looking to get back together in an hour or two."

Welcome to the world of fall turkey hunting, southern style. Sears, the owner of Adventure Game Calls and Guide Service in Spencer, is the latest of a handful of central New York guides to enlist the help of specially-bred dogs for fall turkey hunting, as it's done in Virginia. He's the only one to use the South Carolina - bred Boykin Spaniel, a popular upland bird dog that's known for its personality and adaptability as house pets.

"We've taken nine birds over her so far and she isn't even a year old," Sears said. "Using dogs adds a whole other dimension to turkey hunting."

In fact, it changes turkey hunting dramatically. While spring hunters are up and in the woods before dawn to find birds on the roost, fall hunting with dogs typically doesn't start until 8-9 a.m., allowing the birds to fly down and spread their scent sufficiently for the dogs to find them.

While spring gobblers are hunted one-at-a-time, fall hunters in teams can often take two or three birds from a good-sized flock as it tries to reassemble. Hunters play on the birds' social nature and their urge to stay together in the fall, unlike the spring when callers try to appeal to the birds' libido.

As we called the bark of another dog sounded from the ridge below us and before long another Boykin bounded into sight, followed by guide Chuck Warner. Warner, a Rushville, Pa., dairy farmer, uses his three-year-old Boykin "Cutter" when guiding for Sears.

"Broke a big flock this morning," Warner told us as another camo-clad figure appeared behind him. "Scott got a big adult hen and we had several other opportunities. Scott got a big adult hen and we had several other opportunities."
"Scott" in this case is C. Scott Sampson of Ovid, outdoors columnist for the Finger Lake Times in Geneva and a longtime friend of both Sears and mine.

"I've never experienced anything like it," Sampson said. "These dogs are uncanny."

Sampson headed for his truck, and Warner and Kee Kee took my hunting partner, Dan Hungerford of Endicott, back down the ridge to look for more birds while Sears and I waited out the gobbler flock.
By and by the placid, sunny morning filled me with a gentle lassitude and I relaxed against the trunk of a beech tree. Sure beats sitting at the office.

But about an hour later the peaceful languor was rather rudely interrupted by the report of a shotgun down the ridge.

About 10 minutes later Warner and Cutter walked into view, followed by Hungerford, who was slowed by the weight of a large defunct gobbler. It turned out to be an 18-pound adult tom with a seven-inch beard - not bad for a guy's first -ever fall turkey hunt.

I spend the remainder of the morning and most of the afternoon waiting for the flock of adult gobblers to come back. In fact, I'm still waiting. But that doesn't mean I won't try this again.

Written by:
Dave Henderson
202 Prospect Street
Endicott, New York 13760





To be a part of the Boykin Spaniel pages, contact Pam Kadlec:
pam@boykinspaniel.com





Pam's Boykin Home Page
History of the Boykin Spaniel
Boykin Spaniel Standard


page design by Pamela O. Kadlec
pam@boykinspaniel.com
copyright 1996 Web Designs by P.K.
Last Updated: 7/27/99