Just Ducky Spaniel Academy
Graduates and Honors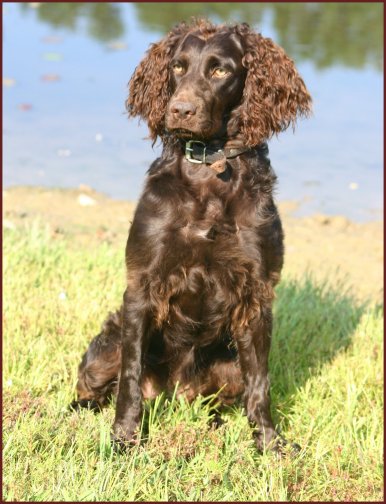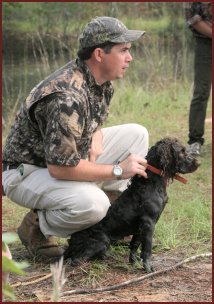 Started titled Sisters!:
SHR Salem Farm's Just Hot Ash - Onwed and handled by Robert Wilhoit
SHR Just Ducky's Front Page News "Molly" - Owned and handled by John Logan
(HR Just Ducky's Bookmark x Just Ducky's Just2hot2handle)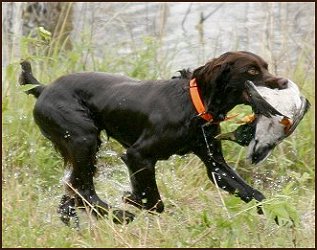 SHR Augustus Mars
(HR Just Ducky's Justmyluck x Shelby's Nipper)
Owned by Richard and Bobbi Lee Claybrooke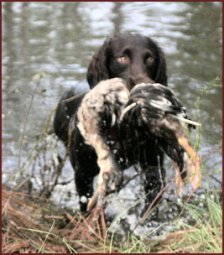 Just Ducky's Nike Air Althea
(HR Just Ducky's Justmyluck x HR Just Duckys' Justdoit)
handled by Joe Copeland
Earned 3 Started passes

Way to go guys and gals!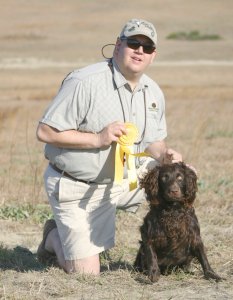 Just Ducky's Guiness Stout - owned and handled by Patrick Duvall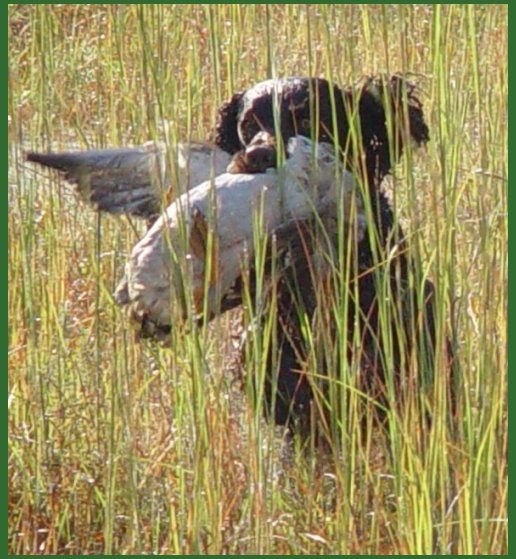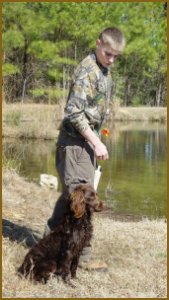 SHR Just Ducky's First Edition - "Edie"(HR Just Duckys' Justmyluck x HR Just Duckys' Justdoit)
Owned and handled by Anne Livingston
SHR Just Ducky's Justagigalo - "Louie"(HR Just Duckys' Justmyluck x Just Cricket)
Owned and handled by Danny Bange


---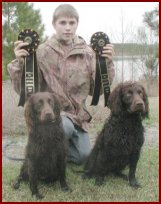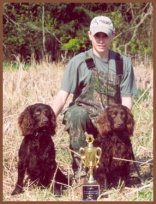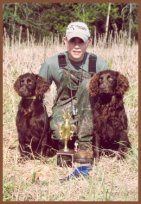 SHR Just Ducky's Ubetyourbippy (Bette) and SHR Just Ducky's Bookmark (Booker)
Danny Bange handled both pups to Started titles from UKC in 2003
Danny with Booker and Just Ducky's Memphis Red - completed the Novice class at the 2003 BSS Nationals - earning Danny the Chairman's Cup
Danny with Just Ducky's Doc's Emma and Fonzie - Emma Completed the 2003 BSS National Puppy class - Fonzie won it

---
Follow these links to other brag pages:

Just Ducky's Justforkicks - "Mule"
Just Ducky Kennel (personal dogs) Honors

American Water Spaniel graduates
---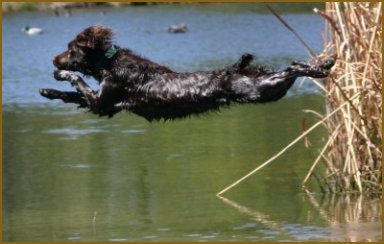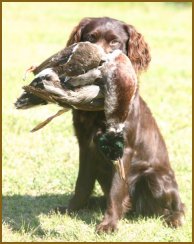 Dixie - owned by Charley Pugh. A wonderful little retriever and a joy to train
Gus - owned by Richard Claybrooke - Gus is every bit as talented as his sister, Dixie- and he earned his first Started pass at the CBSRC Hunt Test in May, 2004
Richard and Gus earned 2 more Started passes at Charleston HRC - June 26, 27 2004

---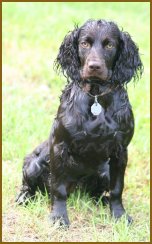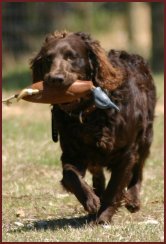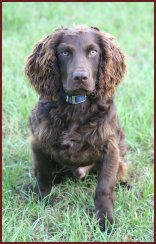 Just Ducky's Miss Edgefield - Miss E", owned by Stephen Tillman - stayed close to home and loves to come to visit
Remington - owned by Will Edwards, super sweet and very smart - Will and Rem may be making waves soon at HRC hunt tests
Just Ducky's Best Seller - "Seller"- owned by Marty Vedas - this fall the dove field will see a great little hunting dog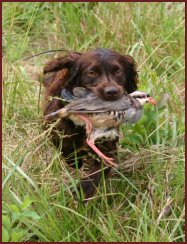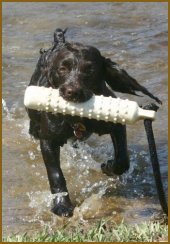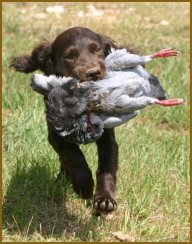 Rhett - owned by Carlisle Oxner, is going to be a blast hunting quail and chukar - good things do come in small packages!
Mollie - owned by Diana Hashimi - discovered water and loves to swim
Maddie - owned by Todd Bowen - a bundle of energy - when she learns to channel it she will be awesome

---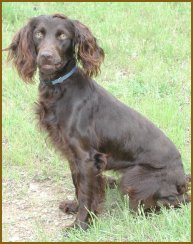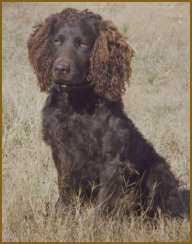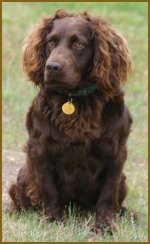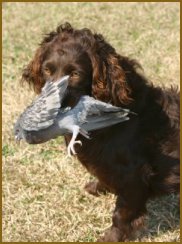 Justbiscuitsngravy - "Biscuit" - owned by Robert Willamson, such a sweet girl and she loves to retrieve too!
Buster - owned by Jim Carter - this boy is a handful with tons of talent
Hunter - owned by Jerry Colwell - a super working dog with a great temperament
Lily - Alan Richey has a great little retriever now that Lily has figured out the game!

---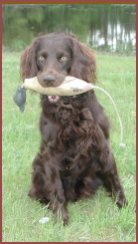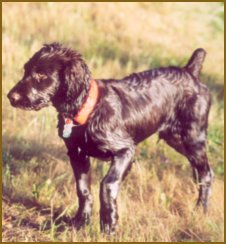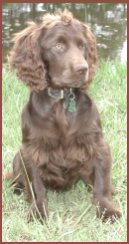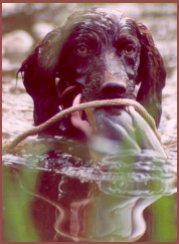 SHR Just Ducky's Cool Hand Luke - Dave will have his hands full with this boy but boy will he hunt!
Carl - Michael McDaniel has an up and coming superstar - this pup has all the tools needed to be a great gun dog.
Hunter - Roddy Matthews and Hunter will have years of fun - this boy is a driven retriever and a sweet boy to boot
Maggie - Trav Paulk needs to keep on his toes with Miss Maggie - she's a lean, retrieving machine in a tiny package.

---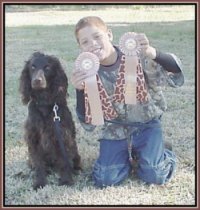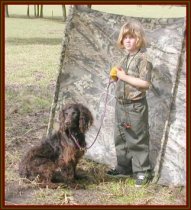 SHR Just Ducky's Justacrooner - "Bing" (Mule's brother)
handled by 10-year old Xavier Jimenez to his Started title
7-year old Christina Rhinehart handled Bing to 2 Started passes - Central Florida HRC

---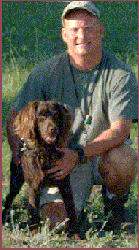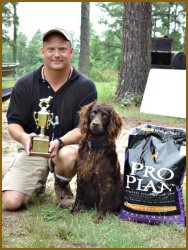 HR Holland Ridge's Jeb Stuart - Owned and handled by Mark Lee - 2001-02 CBSRC Puppy of the Year
2002-2003 CBSRC Novice Dog of the Year
Edisto's Rebel Colonel x Just Cricket

---
---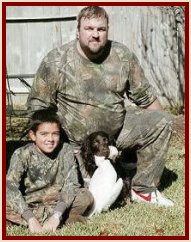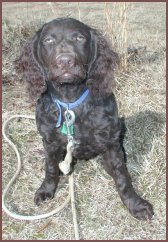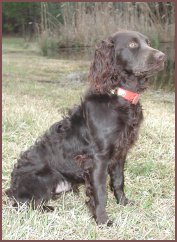 Duke - owned by Scott and Zak Griffin - went to Texas and brought back snow geese and even attempted a Sandhill crane. Way to go Duke!
Ashley - owned by Jane Robbins - quite the handful during puppyK, Miss Ashley will be back for graduate studies this spring
Cayle - owned by Jimmy Timmons - shows all the markings of a great little hunting dog

---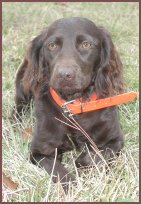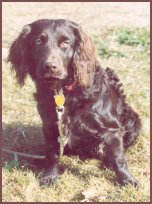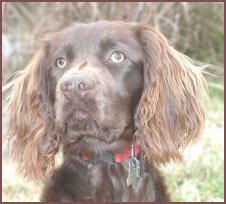 Dixie - Owned by Lee Motlow - don't let the worried look fool ya, she's all business on birds and loves to harrass the other pups!
JoJo - owned by Mike Daniels - super sweet boy who loves to retrieve
Dixie - owned by the Westers - the boys couldn't wait to get this girl home to fetch some birds!

---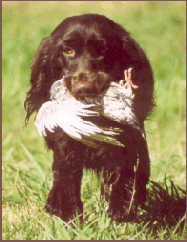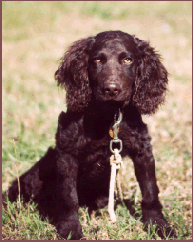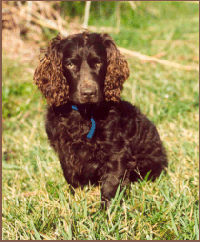 Left to Right: Archie - owned by Chip Robinson - learned that bang means bird and he likes birds
Buster - owned by Jim Carter - little pistol - will be back for graduate studies
Rebel - owned by Christine Smoak - Mr. Ansty - still learning that sit means sit.

---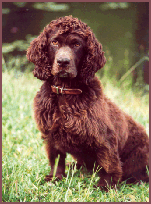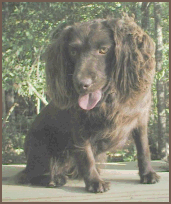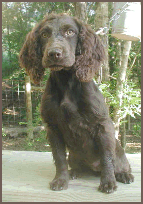 Left to right: Beau - owned by Nick Garry - this rescue dog turned into a retrieving machine
Brownie - owned by Steve Jager - earned top honors as Sofa Queen!
Camden - owned by Becky and Robert Brown - Camden shows promise as a great hunting dog

---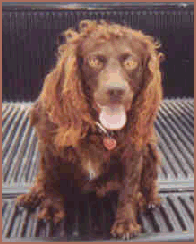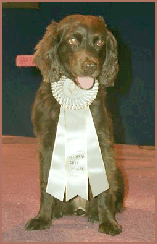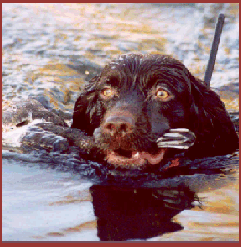 Left to Right: Duncan - owned by Ned Librock - is a wonderful little retriever
Miss Allie - owned by Ken Sass - much prefers the upland over ducks but does it all. Congrats on the Started pass!
Buster - owned by Billy Todd - shows his stuff in the dove field and the duck blind
---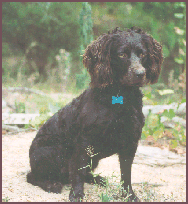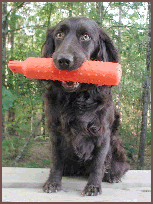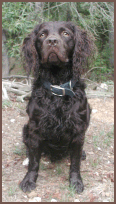 Gabe - owned by Rick Anderson - all business with this boy
Jack - owned by Chuck Mascaro - super sweet guy
Kobe - owned by Martin Kelly - efficiency expert

---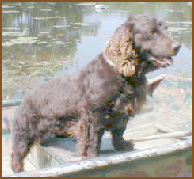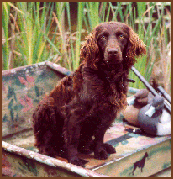 Father and son - HR Edisto Rebel Colonel "RC" (owned by Ronnie Grisanti) and Rinaldo's Delta Dawn "Jubal" - (owned by Judd Grisanti)
Both are great hunting companions.

---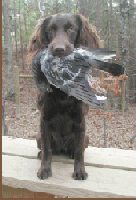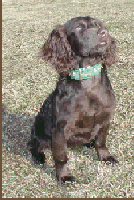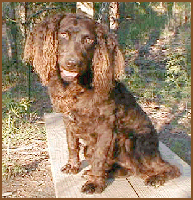 Left to right: Storey's Cocoa Break - Cocoa -owned by Charles Storey - Miss Mouth - barks just to hear her own voice - lives to hunt
VSOP's dela Magdeleine - Maggie - owned by John Wallace - rules the roost in her house
Patch - owned by Brian Tallent - all business on birds

---
6 of the last 7 years the Boykin Spaniel Society's National Puppy Champion has come from Just Ducky Kennel; born and/or trained here including: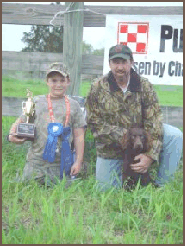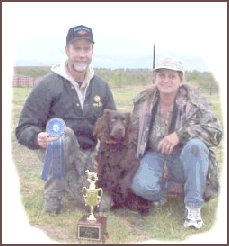 2002 BSS National Puppy Champion:
Branson's Buddy Colonel
Edisto's Rebel Colonel x Just Cricket
Owned by Stan Metz

2000 BSS National Puppy Champion:
Savannah Roses' Martha Duke
Goose Pond Malcolm x Savannah Bea
Owned by Gary and Rose Edmonds

Other Just Ducky Puppy champions can be found at Just Ducky Academy page

---
Just Ducky Academy
Pam's Boykin Spaniel Home Page
Kennels and Training

---
page design by Pamela O. Kadlec
pam@boykinspaniel.com
copyright 2004 - Web Designs by P.K.
Last Updated: 6/28/04