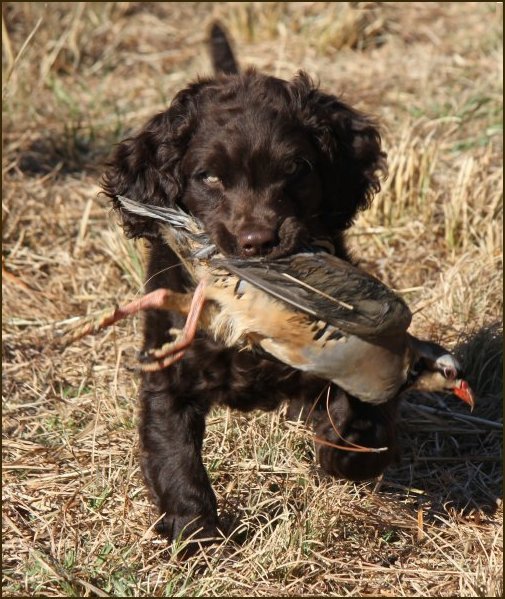 "Proof" with Chukar - 10 -weeks old
Justakickof100proof
(GRHRCH UH Just Ducky's Justforkicks OCH 06, 08, 09 x HRCH UH Justasipofmoonshine "April"
photo by Pamela O. Kadlec
---


Boykin Spaniel puppy buyers beware - if you want a Boykin Spaniel Society registered Boykin ask to see the BSS blue registration papers before getting your pup.
Some breeders are only registering their litters with UKC and AKC.
If the puppy is not BSS registered you cannot register any future puppies with the BSS and you cannot run your pup in BSS field trials.
---


Policy regarding puppy ads - only OFA/CERF certified litters will be accepted for advertising on this site. AND, the breeder must stand behind their puppies with a guarantee.
As of January 1st, 2004, all breeding pairs must be OFA heart -cardiologist- certified as well as hips and eyes.
If you are looking for a puppy please contact the Boykin Spaniel Society. (Adult dog ads are not affected by this policy.) Thank you.

Before You Buy A Puppy - updated 2/1/03
Article by Pam Kadlec; "Caveat Emptor" - Let the Buyer Beware

I ask that all advertisers read my article on buying a puppy and stand behind their decision to breed. I ask that all potential puppy owners read the article listed above in order to be able to ask the right questions and make an informed decision.
We all want what it right for these great little brown dogs and strive to do our best to improve the breed.
If you see pups that are not registerable, the usual reason is that there is too much white on the dog. This does not demean the temperament or huntability in any way. If you are looking for a good field or house companion but are not interested in competition trials or breeding, these pups can be a great deal.
Thanks! PK
---


Litters here:



Repeat breeding:
HRCH Just Duckys Justaplaceoutwest Tana X HRCH Stickponds Raz Ma Taz MHR
Due Sept. 25, 2014

Serious hunter/hunt test homes preferred

Pedigree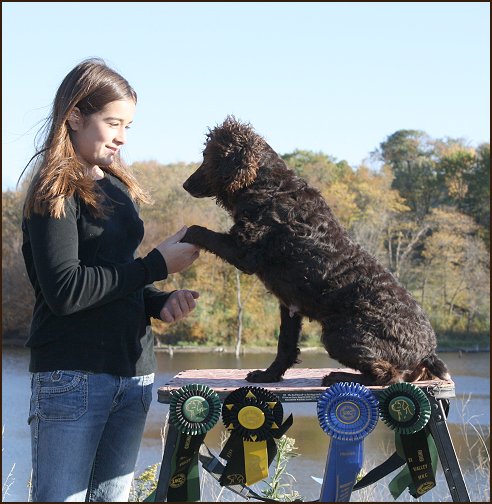 Dam: HRCH Just Ducky's Justaplaceoutwest - "Tana"
(HR UH AJ Jumper x SHR Just Ducky's Justanibble)
Owned, trained and handled by Sarah Harris
2009 BSS National Novice Champion
2012 BSS National Intermediate Champion
BSS - BSR022040, UKC# R193-099
Hips Good - BY-1593G28F-PI
Eyes and heart Normal. CERF BYS-838N/2008-13 Cardiac BY-CA298/12F/S-NOPI
EIC Clear - EICD10-054473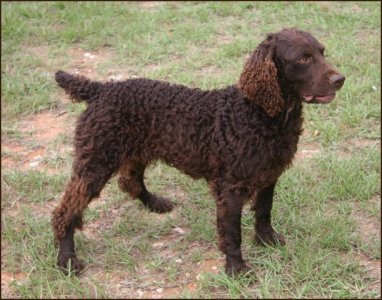 Sire: HRCH Stickponds Raz Ma Taz MHR
(GRHRCH UH Just Ducky's Justforkicks x HRCH UH Caton's Rooty Toot Toot)
2008 BSS National Intermediate Champion
UKC HRCH title 2009
AKC Master Hunter Retriever title 2012 - Qualified for Master National
BSS # BSR 021299
OFA FAIR #BY-1474F34M-NOPI
CERF NORMAL # BYS752N, CARDIAC NORMAL # BY-CA461/46M/S-PI
EIC Carrier

Pups will Be registered with BSS, AKC, and UKC
Pups will be sold under a limited privilege contract until all health clearances are confirmed
A $ 500.00 deposit required to hold your pup
Russ Harris
E-mail
Pacific Junction, Iowa


---


Write for information on upcoming litters

:


pam@boykinspaniel.com


---


Just Ducky Puppy Head Start Program
Click here for a copy of the Just Ducky Kennel sample contract
No shipping, puppies must be picked up at Just Ducky Kennel
Write for more information

:


pam@boykinspaniel.com

---
Contact Pam for pricing and suitability for your home
No shipping - must be picked up in Edgefield, SC
pam@boykinspaniel.com
---
Pam's Boykin Home Page
History of the Boykin Spaniel
Boykin Spaniel Standard
---
page design by Pamela O. Kadlec
pam@boykinspaniel.com
copyright 2014 - Web Designs by P.K.
Last Updated:9/9/14