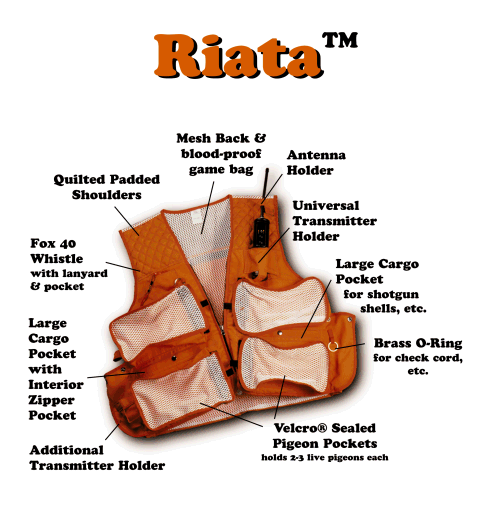 Trail Blazin' Innovations has brought another great product from the drawing board to the trainer's back. The Riata™ is a dog trainer's dream™ vest that every hunter should own. The Riata™ is absolutely the best product on the market for many reasons. TBI spent four years with prototypes in the field with the best gun dog trainers in the country.
Trail Blazin' Innovations kept modifying the Riata™ until it made all of the professionals happy with the product.
This vest will meet the needs of dog trainers and hunters around the country.
Because this vest was designed to train dogs its most obvious feature is the ability to carry up to eight live pigeons or twelve live quail in very secure but easy to access pockets on the front of the vest. It has a high and low holster for e-collar transmitters. A large rear entry game back and great cargo pockets on the front along with an open mesh back round out the major features. The minor features really put this vest miles ahead of its competitors.
All pockets have either heavy-duty YKK zippers or VelcroŽ' to prevent losses. The small zipper pocket in a front cargo pocket is designed to hold blanks, primers or e-collar supplies. An interior chest pocket is good for small personal items. The vest comes with a Fox 40 Pearl whistle attached to a lanyard with its own pocket - a great feature because you will never leave your whistle hanging from the rear-view in the truck again.
Now from a trainer's viewpoint, everyone should have the ability to carry a couple of live birds while training or hunting. A live bird when really needed in training is like a FREE PASS to great training. An even greater use is for the average hunter who hunts where gamebirds are scarce. The ability to carry supplemental birds while hunting guarantees a successful hunt every time your dog is in the field. Successful bird contacts will make every dog a better hunting companion.
The Riata™ is designed for people who are really serious about their dogs. Weather you are working with Pointing Dogs, Retrievers, or Flushing Dogs, this is a product that professionals, amateurs, and hunters use every day to make better dogs. Of course, the ability to carry your own birds while in the field won't hurt your dog either.
The Riata™ comes in M, L, XL, XXL for $99.95 or XXXL for $109.95. Right hand or left hand versions are available.
Trail Blazing Innovations
To order your Riata™ Vest go online or call Trail Blazin' Innovations at 281-530-3916
BEST WISHES
FRED COHEN
PRESIDENT, TRAIL BLAZIN INNOVATIONS
8711 Belle Glen - Houston, Texas 77099 - 281-530-3916 - FAX 281-530-1275
E-mail: TBIfred@aol.com
---
To be a part of the Original Boykin Spaniel pages, contact Pam Kadlec:
pam@boykinspaniel.com


---
Pam's Boykin Spaniel Home Page
History of the Boykin Spaniel
Boykin Spaniel Standard
---
page design by Pamela O. Kadlec

pam@boykinspaniel.com

copyright 2000-2004 - Web Designs by P.K.
Last Updated: 8/29/04